Choosing the best kitchen flooring Boise homeowners love can be a challenge. Kitchen flooring in a Boise home needs to be durable and easy to clean, as the kitchen might be the one room in the home that everyone uses every day! While durable flooring is vital, homeowners also shouldn't settle for anything less than attractive, eye-catching tiles that enhance a home's appearance.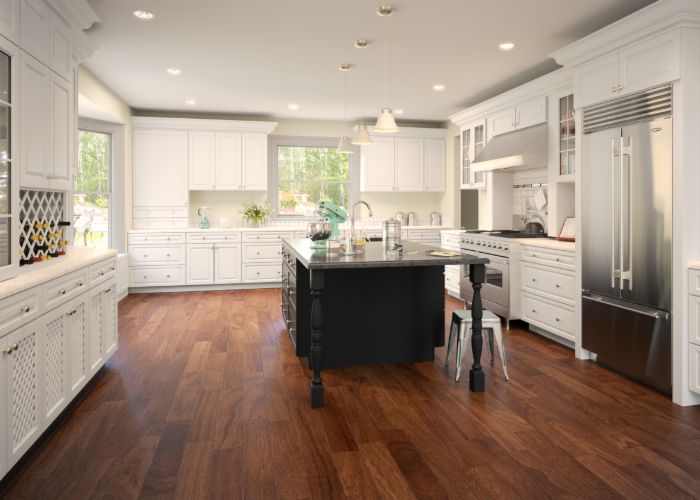 As there is no right or wrong answer as to the best kitchen flooring for a Boise home, you might consider some details about today's popular flooring options, including their overall durability, appearance and ease of cleaning, and average pricing. You can then discuss your choices with a kitchen renovation company in Boise as needed, and know that you'll end up with a kitchen space you'll love for years to come!
Best Kitchen Flooring Boise: High-End Options
If you have the budget and you want the best kitchen flooring Boise suppliers offer, you might consider some high-end Boise kitchen flooring options. Stone is an exceptionally durable choice, withstanding scuff marks, chips, and other such damage easily over the years. Dense stone is also easy to clean and water resistant.
The drawback to stone flooring, however, is that stone sections are quite heavy; your home's subflooring might require added bracing to support heavy stone floors. This added bracing increases your kitchen flooring in Boise costs. Pitted stones also provide added traction and lots of eye-catching appeal but those pits and pores also trap and lock dust and debris, often requiring attention from a professional floor cleaner.
Popular Ceramic Tile for Boise Kitchen Flooring
Ceramic tile is one of the best kitchen flooring Boise offers. It's a popular option for Boise kitchen flooring, as ceramic is dense and durable, and easy to clean. The natural appearance of ceramic also offers an aesthetic appeal that many homeowners love. As ceramic is manufactured with clay and other natural materials abundantly available and easy to harvest, this is also a very eco-friendly flooring choice!
While ceramic pricing is also typically at the high end of your kitchen flooring options, ceramic tiles are more lightweight than stone, so your home's floor will not typically require added bracing. If you prefer a natural look but find that stone installation is out of your budget, consider ceramic tile kitchen flooring for your Boise home.
Cork, for the Look of Wood in the Best Kitchen Flooring in Boise!
While hardwood floors offer an elegant, timeless look, wood is a poor choice for kitchen flooring in Boise as this material absorbs moisture rather easily, expanding as it does. As wood dries, it then shrinks. This expand-shrink cycle contributes to wood eventually warping or bowing, chipping, cracking, and suffering other such damage.
Cork is an excellent alternative to wood kitchen flooring in Boise! Cork offers a natural look close to hardwood but is much more water-resistant. Cork is also soft underfoot and absorbs noise and vibration for a comfortable interior environment.
Low-End Tile for New Boise Kitchen Flooring Installation
You can get affordable options with the best kitchen flooring in Boise. Vinyl tile remains a popular choice for Boise kitchen flooring, as vinyl is affordable, easy to install, and relatively easy to clean. Today's vinyl tiles are also available in a wide range of color tones and designs, even resembling high-end stone, ceramic, or wood.
The downside to vinyl tile is that this flooring option does have something of an artificial look and isn't always the most attractive choice for new kitchen flooring. Vinyl tiles also wear out more quickly than other flooring options, even discoloring or peeling away from underlying adhesives before too long. If you do opt for budget-friendly vinyl, choose a reputable, quality brand and a kitchen flooring contractor in Boise for installation to ensure the job gets done right!
What Is Laminate Kitchen Flooring?
Laminate is an excellent choice for families who need durable and affordable and still want the best kitchen flooring in a Boise home. Laminate flooring is created in layers of padding, wood, and then a high-quality picture covered in thin plastic. That upper layer or picture resembles any number of flooring options, including wood, stone, ceramic tile, and the like.
While the upper plastic layer on a laminate floor offers lots of durability and is very easy to clean, it also tends to feel very uncomfortable underfoot. Laminate also offers an artificial look and feel and does little to resist noise and vibration.
Why Hire a Boise Kitchen Renovation Company for New Floors?
Today's flooring manufacturers make it easier than ever to install new kitchen floors in Boise on your own; you might even find a peel-and-stick option for vinyl tiles, eliminating the need for grout and other such adhesives. However, it's still beneficial for a homeowner to consider hiring a Boise kitchen renovation contractor for new kitchen floor installation, and especially if you're considering high-end materials or heavy stone.
A kitchen renovation contractor is able to evaluate the home's current flooring and note if it needs added bracing along the subfloor, plywood installation for creating a level surface, and other such prep work.
Even peel-and-stick tiles might need added adhesives to keep them in place over the years, and a skilled kitchen renovation contractor knows the best adhesive for various flooring types and how to apply them properly for maximum effectiveness.
Installing tile along level, even lines is often more difficult than homeowners realize! Imagine the frustration of working hard to install a new kitchen floor in your home only to find that tiles "veer off" in one direction or aren't installed evenly across the face of appliances and cabinetry.
Heavier tiles and especially stone, are often very cumbersome to transport and install. Kitchen renovation contractors might use specialty equipment to transport those tiles, as well as heavy-duty tools for cutting and trimming.
Some kitchen flooring options, such as stone or ceramic, might require sealing after installation. Failing to seal kitchen flooring properly often results in early damage and excess wear and tear.
Remember that the best kitchen flooring in Boise area homes is an investment in your property's appearance and condition. Kitchen tiles protect subflooring from water damage and other wear and tear, so it's worth the added cost of hiring an expert for a quality installation. You'll then end up with a beautiful, durable floor you're sure to love for many years to come!