If your home's kitchen seems cramped and crowded, or you spend too much time walking between appliances and the sink, it might be time for an entirely new kitchen design! As with any other room in your home, you're not "stuck" with a kitchen's layout or any of its details and features.
Today's most popular kitchen design styles include an L-shaped or U-shaped kitchen, with a roomy center island. Popular features also include a walk-in pantry and custom cabinetry built around kitchen appliances.
There are many reasons why it might be time for an entirely new kitchen design in your home. Perhaps you bought the home knowing that the kitchen needed updating, or your growing family is straining the kitchen space to its limits. Perhaps the kids have left home and now it's time to scale back that space and create an elegant spot for entertaining!
Whatever your reasons for having outgrown your home's kitchen, you might note some vital details about popular kitchen designs. Some added tips for choosing the best design option for you also ensures you end up with a kitchen you'll love for years to come.
Today's Most Popular Kitchen Design Styles
Before you can choose a new kitchen design style, it's helpful to know the terms used when describing them and a few small but important differences between them.
A one-wall kitchen is common in small spaces and rather self-explanatory; in this design, a sink, oven, refrigerator, and cupboards all sit against one kitchen wall. In some larger spaces there might also be room for a dishwasher. Some homeowners might also pull the refrigerator out from this wall and set it elsewhere, but this often creates a choppy, cluttered look.
A galley kitchen is a popular design and includes two walls, running parallel or across from each other. The sink and appliances might be installed along either wall. Many galley kitchens include a full pass-through design, meaning both ends of the kitchen open to a hallway or another room in the home.
An L-shaped kitchen is also somewhat self-explanatory; the kitchen is designed along two perpendicular walls, forming and L shape. As with a galley kitchen, the sink and appliances might sit against either of these walls, although it's not uncommon for the refrigerator to be placed at one end and a pantry against the other.
A U-shaped kitchen uses three connected walls in the space. While this kitchen design is quite roomy, it's vital that appliances sit close to the sink and each other, to reduce time spent walking between them during food prep and cooking.
A peninsula or G-shaped kitchen design starts with a U shape, but one wall then includes a peninsula or section that juts outward, across the room's opening and toward the opposite wall.
An island kitchen design refers to any kitchen space built with a center island. When deciding on a kitchen island, it's vital to consider its size and location, so as to avoid cutting off foot traffic in and out of the space and to ensure proper clearance for appliance and cupboard doors.
Today's kitchen designs also commonly include a walk-in pantry, perfect for storing small appliances as well as foodstuffs, cleaning supplies, and the like.
Popular Features to Add, and Avoid!
Along with a new layout, you might consider some popular features and details included in today's kitchen designs. These simple add-ons offer lots of additional storage and help keep a family organized in the kitchen! It's also good to note a few details that have fallen out of favor with homeowners and why you might consider deleting them from your planned kitchen renovation as well.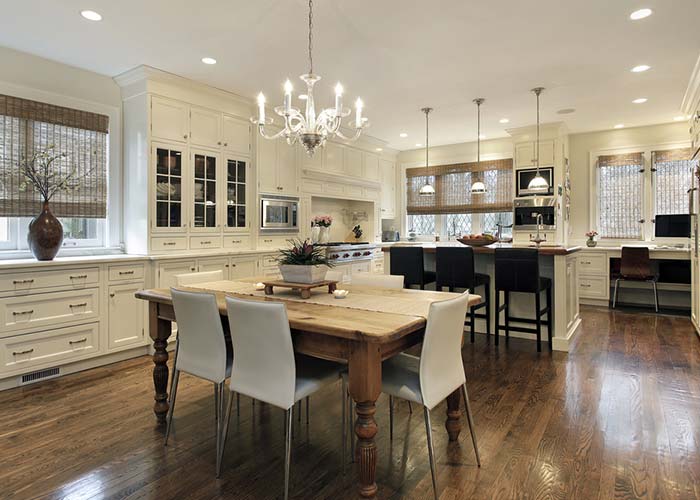 A built-in refrigerator creates a clean and uncluttered look in the kitchen while providing room for accessible storage.
Overhead pot racks have fallen out of favor with many homeowners, as pots and pans hanging over a stovetop tend to collect airborne grease and other residues. In small spaces without adequate cabinetry, consider a wall rack away from the stove instead.
Deep drawers are replacing some lower cabinets, providing designated areas for bulk food storage or organized, accessible spaces for larger pots and pans.
Today's kitchen designs often include customized storage, at least in certain spots. For example, your kitchen design might include a designated "pet zone" with a separate lower cabinet built for oversized pet food bags, and with hooks just for leashes and collars!
While center islands are still a popular choice with many homeowners, oversized islands are being traded for those of a more manageable size, reducing the need to walk around the island to access appliances or storage. Oversized islands also might create a busy look and reduce floor space, creating a crowded feel when there is more than one person in the kitchen!
Homeowners appreciate a bright, cheerful look in a kitchen, so ensure your new kitchen plans incorporate adequate lighting overhead and even underneath upper cabinets. A dramatic light fixture adds style to the space while lighting under those upper cabinets ensures safe food prep while also allowing you to read recipes from a cookbook or your smart phone!
When choosing features and details to add to your planned kitchen renovation, remember that you want the space to work for you personally. Consider carefully every add-on and note how often it would be used, if it would take up valuable floor or storage space, and if there is something you need to make your use of the kitchen easier and more convenient overall.
Where Do You Put Appliances In a New Kitchen Design?
One pro tip to remember about the layout of appliances is that a stove should be placed along an outer wall, if possible. This makes it easier to run vents from the cook top to outside the home. A window over the sink also allows for a cheerful view while washing up, and provides a sunny spot for growing herbs and other plants.
It's also vital to note the space between the sink, oven, and refrigerator. Many kitchen renovation contractors refer to the kitchen "triangle" formed by these three features, as they should be in close proximity to one another. When these three features are spread out in the kitchen, you'll spend too much time walking between them when cooking or to retrieve items, and might increase the risk of spilling or dropping something especially if you're carrying oversized or hot pots and pans!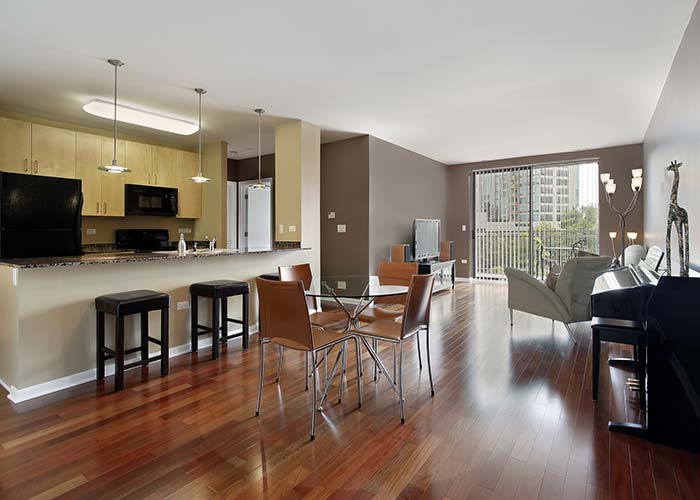 Once you've determined the best position for these features, you might also consider how you cook personally. For example, a vegetarian or someone who eats a lot of raw foods might prefer the sink and refrigerator next to each other, rather than the sink next to the cook top.
When determining the best positions for appliances, remember that you want them close together but also need to provide adequate prep space between them as well! Putting the refrigerator right next to the sink means easy access to fresh foods, but you also don't want to carry those foods all the way across the kitchen just to reach the only open counter in the space. Consider the room you need for storage, food access, and food prep when planning a kitchen design, and you'll end up with a space you love.
Planning Surfaces in Your New Kitchen Design
Another vital element of a functional yet stylish kitchen design includes surface materials, such as countertops, backsplashes, and floors. These materials need to coordinate with your new kitchen cabinetry as well as with each other! It's also important that you choose durable yet stylish materials that work for your space in particular.
As an example, too many dark colors, such as a dark floor tile, cherry cabinets, and dark granite countertops might create a muddy, cave-like look in the kitchen. Dark, reddish granite might also simply blend in with the cabinetry, for a bland and dull look.
Consider choosing colors and tones that contrast the surface above it. For instance, you might start your kitchen design with dark cabinets. Lower cabinets are above the floor, so you'll want a floor tile in a lighter shade. Countertops are above those cabinets, so choose a lighter color for that surface and the backsplash as well. By contrasting these surfaces, you'll create a cohesive yet attractive look.
Related Questions
What are two-tone cabinets?
A popular kitchen design trend today include two-tone cabinets, or upper cabinets painted a different color than lower cabinets. Two-tone cabinets break up the look of cabinetry and add a bit of drama to the space, but should always be in complementary colors not far off on the color chart, to ensure they still coordinate and offer a cohesive look.
Can you use an app or program for kitchen design?
Computer programs and smart phone apps might assist in choosing a functional kitchen layout for your space and in demonstrating the look of certain materials. However, an app or computer program can note the actual "feel" of certain countertop stone and tile flooring, or offer suggestions for providing a kitchen you'll love. Work with a contractor on final details for your new kitchen design instead, to ensure you'll love that space for many years to come!