New kitchen cabinets for a Boise area home add instant style as well as increased functionality in the kitchen, providing convenient and accessible storage where you need it most! Because there are so many choices on the market today for beautiful yet functional kitchen cabinetry, you might get a bit overwhelmed in deciding what's best for your home.
When choosing new kitchen cabinets for a Treasure Valley area home, consider:
The size of your kitchen versus needed storage
Light colors for small kitchens
A neutral style that you can live with for many years
There are many other factors to keep in mind when choosing new kitchen cabinets for a Boise area home, so note a few tips to keep in mind when you're planning a kitchen remodel or renovation.
Choosing New Kitchen Cabinets for Added Storage
If you need added storage in your home's kitchen, it's easy to assume that you need the largest kitchen cabinetry on the market. This isn't always the case, as overly large cabinets for a kitchen can make a space seem crowded and cramped somewhat easily. To find new kitchen cabinets in a Treasure Valley home that offer lots of storage without being too large, consider some simple tips:
Built-in organizers and dividers ensure that every square inch inside kitchen cabinets is put to good use. Rather than buying the largest kitchen cabinetry on the market, note if you simply need more small shelves, cubbyholes, and other dividers inside cabinets for organizing dishes, glassware, and foodstuffs.
If you do need larger kitchen cabinets but don't want to crowd your kitchen, add a few cabinets that reach the ceiling, along with standard-size cabinets or a few open shelves. You'll then have additional storage but it will keep your kitchen from feeling crowded and claustrophobic!
If you do opt for ceiling-height kitchen cabinetry, choose glass doors for a few of those cabinets. Glass doors keep your kitchen from seeming boxy and closed-in so that the space feels less crowded.
Be sure you also choose new kitchen cabinets that provide storage for what you need, where you need it. For example, you might need larger cabinets near the stove for holding pots and pans, but more compact cabinets where you do most of your food prep, to hold canned goods, seasoning packets, spices, and other small items.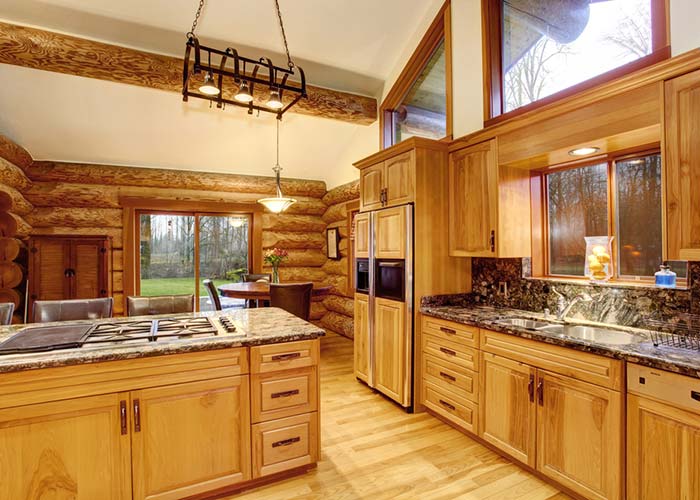 How to Choose a Kitchen Cabinetry Color
The color of the new kitchen cabinets in your Treasure Valley area home will affect the appearance of your entire kitchen! Note a few tips on choosing the best color of kitchen cabinetry for your new kitchen design:
Consider the color of your kitchen's flooring, countertops, and backsplash. Avoid trying to match the color of cabinets to these surfaces perfectly, but choose a tone that complements these materials instead.
Stark white looks very clean and is an excellent option for small kitchens, but it can also show fingerprints very easily! Consider an eggshell or soft white if you have children or pets who are always leaving behind smudges and smears along kitchen cabinets.
Dark kitchen cabinets are very elegant but also make a small kitchen seem dim and dull, and especially if the space has dark flooring or countertops. If you must have a darker color in a small kitchen, consider a stain rather than paint to keep your kitchen cabinets from looking muddy and dull.
Remember that the color of your new kitchen cabinets will be affected by the light in the space. Lots of bright light will make cabinets seem lighter, whereas a lack of light will make colors like walnut and cherry seem even darker.
If your kitchen appliances are white or almond or any finish other than stainless steel, consider this color when choosing kitchen cabinetry. White cabinets might clash with almond appliances and seem very stark and bland if those appliances are also white. Opt for a warmer color in an earth tone to complement those appliances instead.
How to Choose a Style for New Kitchen Cabinets in Treasure Valley
You may not realize that there are so many different styles of kitchen cabinetry until you start shopping for new cabinets for your Boise area home! Shaker-style cabinets are very simple, with square trim around each door. Tuscany-style cabinets are very detailed, with scrolling trim and ornate hardware. Rustic cabinets include thick slabs of wood that typically show lots of grains and knots.
Contemporary cabinets include a flat door, often without a handle or pull. A slab cabinet is similar to contemporary cabinets, except slab cabinet doors will include a handle of some sort. Traditional kitchen cabinetry is made of oak, cherry, or mahogany, with a raised panel door and oil-rubbed bronze hardware. Transitional cabinetry includes a mix of other styles, bringing together various elements for a unique look.
What Are Specialty Cabinet Units in Boise?
To ensure that your new kitchen cabinets in Boise work for you, in particular, consider adding a few specialty units to your new kitchen design in Boise. Specialty units are unique cabinets that often serve one particular, unique purpose; for example, bottle racks have crisscrossed fronts for storing and displaying wine bottles. Corner kitchen cabinets ensure you're using every square inch of available space, including "dead" space in far corners. These cabinets often pull out, like drawers, so you can reach those corners.
Slim, slide-out cabinets might fit between lower cabinets and an appliance and are designed to house spices, canned goods, or shallow pans. Slide-out shelving inside kitchen cabinetry is also an excellent choice for holding deeper pots and pans and large, bulky items.
Other specialty cabinets might be built to house a microwave, a mixer used for baking, a coffeemaker and coffee fixings, and other such items in particular. Even if you don't opt for custom cabinetry, it's good to shop these specialty units to ensure your new kitchen cabinets work for you in particular and offer all the storage you need, where you need it.