A kitchen remodel cost in Boise can range from a few thousand dollars to well over $40,000 and even higher, depending on the changes a homeowner wants to make in the space, as well as the appliances and surface materials they choose. Labor costs are also a major part of a kitchen renovation cost in Boise, as well as fixes needed to support the remodel, such as bracing up a subfloor or repairing water damage behind walls.
The average kitchen remodel cost in Boise run about $10,900 to $12,000. Average costs for materials might start at about $7000 while average labor costs may hover in the $3000-$5000 range. High-end materials and a complete tear-out of the space add to your average kitchen remodel costs in Boise.
While the average kitchen remodel cost in Boise might seem a bit steep for some homeowners, remember that the kitchen truly is the "heart of the home" and probably the one room that everyone in the family uses every single day! An outdated and drab kitchen makes your entire house seem just as dull, and a kitchen that lacks storage and functional workspace can mean stress and clutter.
To ensure you're able to afford a kitchen remodel in Boise Idaho without sacrificing needed features or those beautiful details you prefer, note some vital information about affordable kitchen design. You might also note some tips on how to create a kitchen plan that works for your home and your family in particular.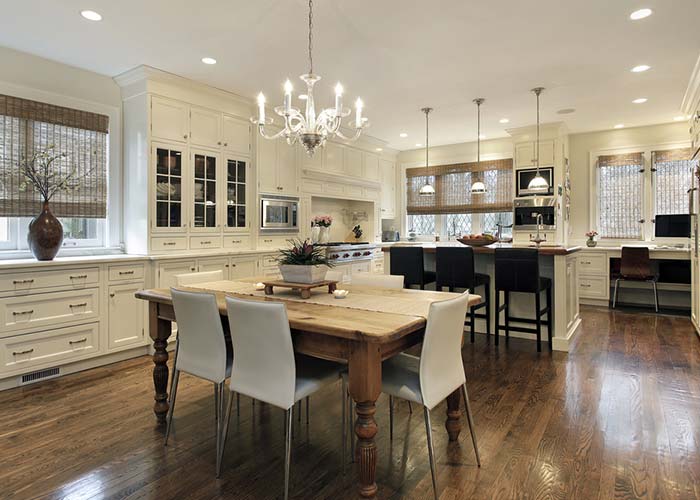 How to Lower Your Kitchen Remodel Cost in Boise
When considering how to lower your kitchen remodel cost in Boise, remember that you never want to choose low-quality surface materials and finishes. Poor-quality materials tend to fall apart or wear away sooner rather than later, increasing your costs over the years! Instead, you might consider other options for lowering your kitchen remodel cost in Boise without sacrificing durability of materials or the style of kitchen you want:
Ask your kitchen renovation contractor in Boise about granite remnants or reclaimed granite for kitchen countertops. Remnants are left over from other stones and reclaimed granite is collected from renovation and remodeling projects. Both are very durable and beautiful but are also typically far less cost than new granite.
Quartz, recycled glass, and concrete are also excellent, budget-friendly materials for kitchen countertops in a Boise home. These materials are often far cheaper than granite or marble but still offer durability and a high-end look you're sure to love.
Custom cabinetry offers all the personalized storage you need, but many choices of prefabricated cabinets are just as roomy. Opt for upgraded hardware for a unique, upscale look.
While it's best to leave demolition to your renovation contractor in Boise, you might ask if there are some tasks you can accomplish on your own without damaging your home, to lower your labor charges. These tasks might include pulling up floor tiles or removing the appliances, or even demolishing cabinetry if safe to do so.
Be sure to ask about manufacturer's rebates, tax incentives, closeouts, and other bargains or ways to lower the costs of materials and appliances for your kitchen renovation in Boise. Your contractor might know of year-end sales or other deals that could lower your costs for these appliances by hundreds of dollars!
What Not to Do to Lower Your Kitchen Remodel Cost in Boise
Along with investing in quality materials and finishes for your kitchen renovation in Boise, remember that you don't want to forego needed storage space in your new kitchen. Lack of adequate storage often means a cluttered, crowded kitchen that lacks space for food prep as well as your cookware and other items! Talk to your kitchen renovation contractor in Boise about affordable options for storage, such as open shelving or cabinet refinishing, to save money without sacrificing the space you need in your home's kitchen.
It's also vital that a homeowner budget properly for needed upgrades to plumbing and electrical systems in the kitchen, as well as various repairs. If you try to connect your new, oversized appliances to outdated wiring, as an example, your home might suffer lots of brownouts or blown circuits, putting electrical stress on those appliances and causing early breakdown. Failure to fix worn out subflooring, as another example, can mean eventual cracks in the floor and similar damage after your kitchen renovation is completed.
Your kitchen renovation contractor can also suggest ways of lowering your kitchen remodel cost in Boise without sacrificing storage or style! He or she will typically have lots of experience in creating a stylish and stunning kitchen that is also wallet-friendly and that you're sure to love for as long as you own your home.