No matter the new kitchen countertops cost in Boise, updated counters add style to your kitchen space instantly while also providing a clean and safe area for cooking and food prep. Investing in the highest-quality kitchen countertop materials for a Boise home ensures they last as long as possible and resist scratches, chips, and other damage.
While new countertops for a Boise area home are an excellent investment, no matter the material you choose, you might be concerned with countertop installation costs. Note some vital details about various new countertop materials for Boise homes, so you know the best choice for your house, and understand why it's good to invest in quality surfaces and expert installation.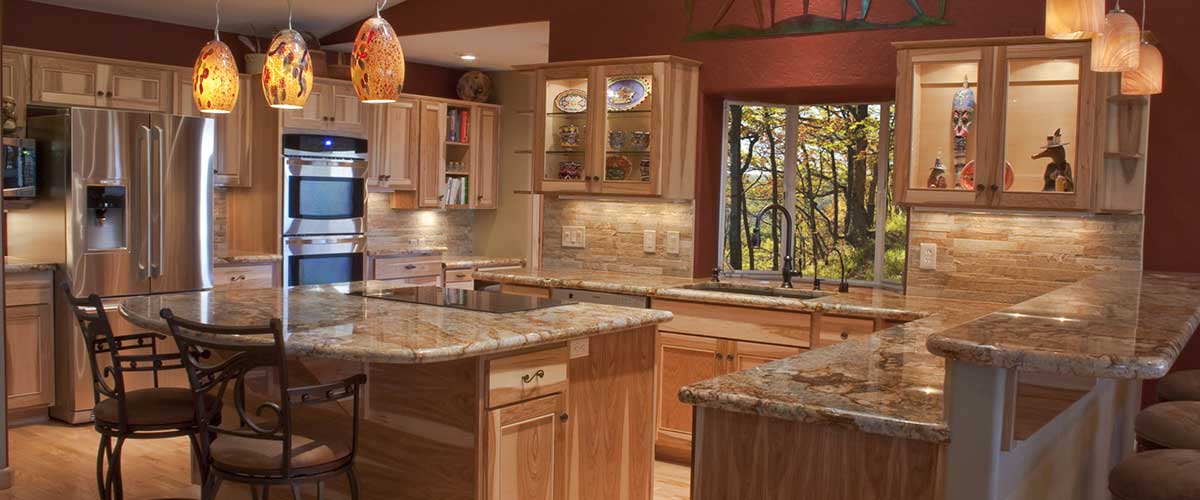 Kitchen Countertops Cost in Boise - Classic Granite Countertops
Granite countertops for a Boise area home remain a popular choice for many reasons:
Granite offers excellent durability, resisting heat, stains, watermarks, and other such damage.
The color tones and veining of each slab of granite used for new kitchen countertops in Boise are all unique, so your home's counters will be as individual as you!
Granite remnants are budget-friendly and eco-friendly. Using remnants left over from another project means less harvesting of virgin materials while also keeping those pieces out of landfills.
Granite works well with any kitchen style; you might opt for dark granite to offset plain white kitchen cabinets in a modern home or granite with shades of brown or green for a traditional and warm look.
The neutral yet upscale look of granite and its overall durability are appreciated by many potential homebuyers. You can then install new granite kitchen countertops in a Boise home today and not worry about changing those materials if you should put your home on the real estate market in the future.
There is no way to determine an absolute kitchen countertops cost in Boise, but most materials run from $50 to $250 per square foot installed. Price variations often depend on the thickness of the stone slab, the work needed to prep your home's current counters, and the amount of buffing and sealing needed for your new granite countertops in Boise.
Eco-Friendly Boise Quartz Kitchen Countertops
Boise quartz kitchen countertops are an excellent choice for the eco-conscious homeowner, as quartz is manufactured with crushed bits of real stone reclaimed from other projects and materials. Using reclaimed stone keeps those pieces out of landfills and means less harvesting of virgin materials as well!
Another excellent feature of quartz countertops is that they come in a wide variety of colors and tones. Many quartz kitchen countertops cost in Boise start at around the $35 per square foot price range and might cost upwards of $200 per square foot, depending on the quality of the material and finish work required after installation. Get with a professional for a more accurate quartz countertops cost calculator figure.
The Pros and Cons of New Tile Countertops in Boise
New tile countertops in a Boise home are an excellent choice for many homeowners, but they do have some drawbacks; consider a few pros and cons of a tile countertop installation when making your choice of new counters for your house:
New kitchen tile countertops are typically very affordable, with some kitchen countertops cost in Boise starting at just $10 per square foot, installed.
Tile is relatively easy to install, so you might be able to enjoy new tile countertops quicker than any other option!
There is virtually no end to the colors and patterns of tile for kitchen countertops. You might choose a classic, plain white subway tile or a busy mosaic for your kitchen counters, or something colorful yet subdued for a great compromise of color and pattern.
One drawback to tile countertops in Boise is that the grout between tiles, as well as the pits and pores along the tile surface, tend to trap and hold dirt. Tile often needs professional cleaning on a regular basis to remove that dirt and restore the color of both tile and grout.
Food prep is often difficult on the uneven surface of tile and grout. Cutting boards might wobble, and using a rolling pin is often a challenge on tiled kitchen countertops.
Many kitchen tile countertops in Boise are prone to stains and burn marks. Grout also tends to lose adhesion over time.
Tile kitchen countertops are also prone to chips, cracks, and other such damage.
Note, too, that some tile designs might go out of production over time. In turn, you might not be able to find replacement tiles for a chipped or stained piece on your kitchen counter and might need to replace the entire countertop instead.
What Is the Least Expensive Type of Countertop in Boise?
Laminate countertops are very budget-friendly when considering the kitchen countertops cost in Boise, but also one of the least durable options. Laminate countertops are comprised of an upper layer of material glued over an inexpensive slab of plywood or pressboard. The upper layer of laminate countertops resembles stone, wood, tile, or other such materials.
High heat and humidity levels in kitchens tend to break down the adhesive of the laminate so that strips around the sides of kitchen countertops might peel away. The surface of laminate is also prone to showing chips, scratches, burn marks, water marks, food stains, and other such damage. Some kitchen countertop installers in Boise don't even carry laminate materials due to their poor quality and short lifespan.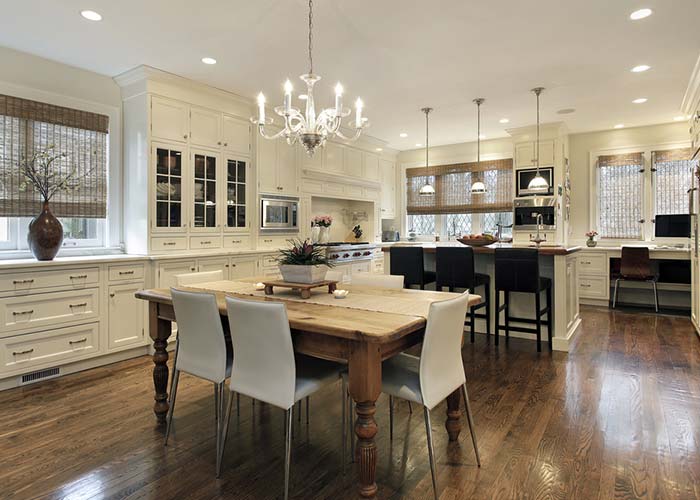 Are Boise Stainless Steel Countertops Expensive?
Along with the kitchen countertops cost in Boise, stainless steel offers a modern, sleek look as well as a durable space for cooking and food prep. The reflective surface of stainless steel also bounces light around the space, keeping even the smallest kitchen from looking dark and dim. Steel also offsets an abundance of wood cabinets or timber-look laminate flooring installation in Boise while also coordinating with glass cabinet doors or a glass backsplash.
The cost of stainless steel countertops in Boise might average around $65 per square foot installed. Some kitchen countertop installers in Boise wrap stainless steel around current countertops, reducing your kitchen countertop cost in Boise. Stainless steel remnants are also more budget-friendly than new sheets of steel, and your kitchen countertop installer might have other suggestions for saving money on steel countertops as well as other countertop materials, reducing your kitchen countertops cost in Boise.
Get An Accurate Answer from the Pros
If you're looking for kitchen countertops near me, make sure you look at what North Star Kitchen & Bath has available. From quartz countertops Boise homeowners love to laminate, tile, and more, we have something for everyone. Also, if you're wondering how much are countertops, we will get you an accurate estimate at no cost.