If you're planning a kitchen remodeling in Boise, you have the chance to ensure your new kitchen space is both stylish and functional! A home's kitchen should provide all the space needed for food prep and cooking, as well as an attractive, welcoming look everyone loves.
Before you take on your new kitchen renovation for a Boise area home, you might consider some "must have" features to include. Discuss these with your Boise kitchen renovation contractor, and this will ensure you end up with a kitchen space you'll love for years to come!
1. Include Deep Drawers in Your Boise Kitchen Remodel
Trying to access items stored in lower cabinets can mean lots of bending and stooping, which is not only cumbersome but also painful! Today's Boise kitchen remodeling plans often include deep drawers in place of lower cabinets, allowing you to pull out those drawers and more readily reach those otherwise inaccessible far corners.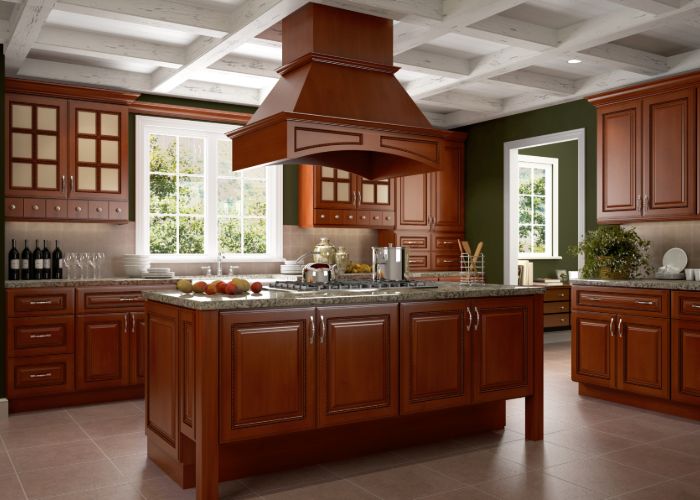 Deep drawers also allow you to store bulk food items in the drawers themselves. Your Boise kitchen renovation contractor might provide plans for separated drawers, with various compartments for storing flour, sugar, pet food, various vegetables such as onions and potatoes, and the like. This ensures your kitchen is organized and everything is accessible where it's needed!
2. Every Kitchen Remodel in Boise Should Include a Recycling Center
There are a few reasons to include a dedicated recycling center in your Boise kitchen remodel plans. One reason is that it helps keep rubbish and refuse as neat as possible; separate bins for recycling reduce the risk of overflowing trash cans, spilled piles of recyclable cans, and the like. It's also easier to sort your recycling when you have dedicated bins for each material, including glass, plastic, and so on.
Another reason to include a recycling station in your Boise kitchen remodel is that it encourages recycling! If your family needs to handle messy stacks of recycling or just forgets about putting certain items in the recycling bins, they're far less likely to sort those items. However, dedicated bins, with enough room to keep things organized and set out neatly, can mean easier recycling and more participation from everyone in the family.
3. Choose Easy-to-Clean Surfaces for Your Kitchen Remodel in Boise
When selecting floor tile, countertop materials, cabinetry materials, and a new backsplash for your kitchen remodel in Boise, don't choose by price or appearance alone. Remember that kitchen surfaces and materials often suffer the most wear and tear of any surfaces in the home, and yet need to be clean and hygienic for safe food prep and cooking.
To reduce the amount of germs and bacteria in the kitchen and make cleanup easier on you, choose easy-to-clean surfaces and materials. This might include dense porcelain or ceramic floor tile, solid stone countertops like granite countertops, and a glass backsplash. Avoid tiles with lots of pits and pores that hold dirt and debris, and low-quality wood cabinets that tend to warp and stain easily.
4. Remember Lighting When Planning a Boise Kitchen Renovation
Bright, adequate lighting is a vital part of any Boise kitchen remodeling, as proper lighting provides a welcoming atmosphere in the kitchen while also ensuring safety during food prep and cooking! If there is only one overhead light fixture in a large kitchen, keep money in the budget for recessed lighting along outer corners of the ceiling and under-cabinet lighting as well.
Note, too, that a beautiful new light fixture adds lots of style to a kitchen as well as increased functionality! Shop around for something that fits your home's décor and style, and add decorative pendant lights or other such fixtures as needed, to keep your kitchen looking its best from top to bottom!
5. Don't Forget Space and Openness in Your Boise Kitchen Remodel
When planning a new kitchen design for a Boise area home, you might be so eager to include oversized cabinetry, a large center island, and several roomy chef-inspired appliances that you forget to include space for walking around that stunning new kitchen! While ample storage, room for food prep and cooking, space for eating in the kitchen, and large appliances are often must-haves for a new kitchen, you also don't want a cramped, crowded space that feels unwelcoming and uninviting.
Space and openness is especially vital if several people use the kitchen at once and if you entertain friends in the kitchen. Consider how easily you and your partner can work together at the stove or sink, if there is room for the kids to sit and review schoolwork while the adults cook, if you'll have space for all your friends, and other such needs when planning your new kitchen layout and details.
If you know that your planned kitchen design will be a bit cramped but aren't sure how to downsize all your needs, start with the center island. Many families find that something moderate or even downright compact is sufficient for their everyday needs, and especially if you provide adequate counter space for food prep and a sizable pantry for storage.
It's also good to reconsider the size of your new appliances. Would you really use six burners on the stovetop every day or just a few times throughout the year, such as when you host holiday dinners? Is it necessary to crowd the kitchen with an oversized stove that you might only use those few times, or might you bring out a plug-in burner or grill for those few times you're cooking a big meal?
Remember that your contractor can also note some added features and details you'll want to include in your kitchen remodel for a Boise home. He or she no doubt knows what features homeowners regret not including, and those they wish they had left out of their design plans! A contractor or designer can also help you create a new floor plan or layout that works for your needs in particular, so you love your new kitchen space for years to come!