A full-scale kitchen renovation is one of the most popular home remodeling projects undertaken by homeowners today, and one that can add both style and value to your home. While replacing outdated kitchen cabinets and countertops is an excellent option for improving the overall look of the space, you might note some surprising reasons why you should invest in a full-scale kitchen renovation for your home.
A full-scale kitchen renovation often adds the most value to the home while creating a more efficient workspace and comfortable environment throughout the house. High-quality kitchen surface materials also last for years before they need repair or replacement.
While a full-scale kitchen renovation might seem like a luxury for some homeowners, a total kitchen renovation typically offers the most "bang for the buck," or the greatest return on investment financially, as well as in terms of increased comfort and functionality. If you're still not convinced that your home needs a full-scale kitchen remodel, note 10 surprising reasons why a kitchen renovation can be one of the best decisions you'll make for yourself and your home.
1. A Full-Scale Kitchen Renovation Adds Value
Not all home improvement projects increase your home's overall value, at least not by any significant amount. For example, if you were to expand the bedroom closets or install a bay window in the living room, your home might only increase in value by a thousand dollars or two, if that. However, a full-scale kitchen renovation often increases your property's value by a significant amount, even some 90% of your kitchen renovation costs.
Your home's overall value is important when applying for a home equity loan or any line of credit, as lenders might consider your overall financial portfolio, including the value of the real property, when deciding on your eligibility. The more valuable your home, the more credit you might receive. So, when determining the kitchen remodel cost, remember it's an investment that pays for itself.
2. Kitchen Remodeling Means Safer, More Hygienic Surfaces
Older kitchen countertops are not only unsightly, but they're also often downright unhygienic! Cuts, scratches, chips, dents, nicks, and other imperfections are often breeding grounds for germs and bacteria that a washcloth can't reach during your daily cleanup. The sealant or coating of older countertop materials also tends to wear away or chip away with age, exposing the porous materials underneath.
Chipped and scuffed kitchen floor tiles also tend to hold lots of ground-in dirt, mud, food debris, and other unhealthy residues. Severely damaged floor tiles or loose kitchen flooring are also unsafe for walking.
A backsplash is designed to protect walls from food splatter while also providing a fire-resistant layer of materials between your stovetop and the wall behind it. If your kitchen is without a backsplash or if the current backsplash is chipped, worn away, or missing a few tiles, it's time for a replacement.
A full-scale kitchen renovation with new floor tiles, a granite countertop installation, a new backsplash, and other such surface materials creates a kitchen that is hygienic for food prep and cooking and safe for foot traffic.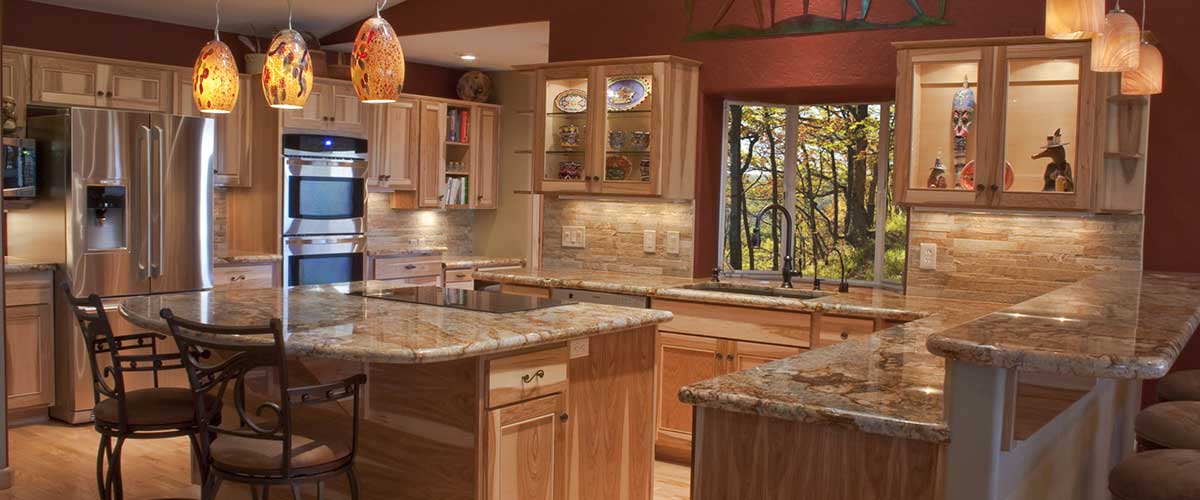 3. A Kitchen Renovation Keeps You Connected
Many modern kitchen designs open the space to the adjoining family or living room so that parents can keep an eye on children while cooking or cleaning up. A host or hostess can also stay connected to guests in the adjoining room while preparing a meal or refreshments.
If your home's current kitchen is cut off from adjoining living or dining areas, a full-scale kitchen renovation can remove a wall and even relocate appliances if needed. You'll then enjoy an open floor plan that keeps everyone connected, no matter who is in the kitchen.
4. A Full-Scale Kitchen Remodel Can Reduce Energy Costs
Small, enclosed kitchens tend to trap heat and humidity, raising the temperature inside your home. Your air conditioner might then cycle on more often when you cook during the summer months.
Outdated ovens and older refrigerators often allow hot and cold air to leak through faulty seals around their doors. Older appliances also tend to use more power to operate, increasing your overall utility costs.
New appliances with more operating features often mean less power for cooking and cleanup. For example, a small second wall oven might provide all the space you need for everyday cooking without having to heat up a much larger oven, saving on energy costs. A new dishwasher with quick rinse cycles also results in using less water and power overall.
Including space for upgraded, energy-efficient appliances as well as added ventilation in the kitchen results in reduced energy costs. Opening up the floor plan of a kitchen can also mean more air circulation while cooking, making the space more comfortable overall.
5. An Outdated Kitchen Can Mean Outdated Electrical Wiring
Your home's electrical wiring, connectors, circuit box or breaker panel, and other such pieces wear out with age and everyday use. Rodents also tend to chew on electrical wiring, while excessive moisture and water leaks might also cause damage to their protective coating.
An outdated kitchen might indicate that your home's electrical wiring is also outdated since electrical wiring is often installed and replaced during construction or renovation projects. A full-scale kitchen remodeling allows a kitchen renovation contractor to examine the home's wiring and electrical fixtures and then replace outdated, frayed, worn, or damaged wires and connectors as needed.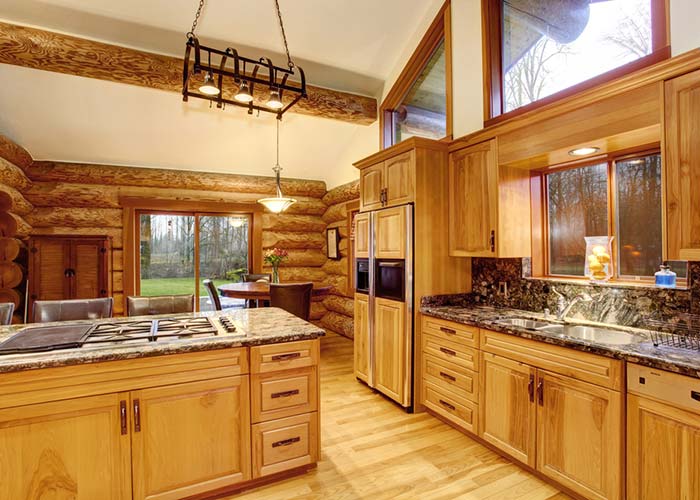 6. A Full-Scale Kitchen Renovation Allows for a Mold Inspection
Other than after a flood or plumbing disaster, a house might only be inspected for mold when walls are torn up during a renovation or remodeling project. An outdated kitchen might mean that your home hasn't been inspected for mold in many years, if ever, and a full-scale renovation allows a kitchen remodeling contractor to check for signs of developing mold.
Note, too, that a small kitchen with poor ventilation traps excess humidity in the space, as said. All that excess humidity and moisture increase the risk of mold growth in the home. Investing in a full-scale kitchen renovation and opening up the footprint of the space allows for a mold inspection while also reducing the risk of future mold growth.
7. A Kitchen Renovation Allows for Changes in the Family
A large center island might be inconvenient for infants and small children. If you're thinking of starting a family, you might opt for a kitchen renovation to remove that island in place of a more workable built-in banquette with bench seating, to easily accommodate a high chair and booster seats for younger children.
As children get older, a center island might be preferable to accommodate their growing frames as well as their friends. A center island also gives children a place to do homework or even help with meal prep while the adults cook and clean up.
As the adults in the home approach middle age or their senior years, a kitchen renovation can remove a center island to make space for a wheelchair, if needed. Lower countertops with seating might be installed so that someone with fatigue or joint problems can sit comfortably while cooking. Custom kitchen cabinets with shelves and drawers that slide out also reduce the need for reaching and bending, relieving pressure on the back and knees, an excellent option for those with arthritis and other health concerns.
Whatever your needs for a functional kitchen for your family, note if your home's current kitchen layout will accommodate those needs in the upcoming years. Consider a full-scale kitchen remodel now so that the space works for your family's needs in the future!
8. A Full-Scale Kitchen Remodel Offers More Storage
If your home's kitchen lacks convenient, accessible storage, a full-scale kitchen remodel might include a new, custom pantry with the room you need for foodstuffs and small appliances. New broom closets might also include built-in features for recycling bins, trash bins, cleaning supplies, and other such bulky items.
However, note that many homeowners don't necessarily need an entirely new kitchen for added storage. Custom kitchen cabinets designed with you in mind make use of every available inch and can be installed around a built-in refrigerator or other appliance, ensuring maximum storage in even the smallest of kitchens.
9. An Updated Kitchen Is Easier to Clean
Every homeowner has more important things to do than scrub their kitchen's surfaces. However, damaged countertops, flooring tiles, and other surfaces tend to hold lots of dirt and debris, as said, making them tougher to clean. Outdated materials are also typically not as solid and resistant to dirt as today's granite kitchen countertops, laminate flooring, and other such options.
Investing in a full-scale kitchen remodel means surfaces that are quick and easy to clean and which won't look as dingy and dirty between cleanings as well. You'll then spend less time cleaning while still enjoying a cleaner kitchen overall when you choose a kitchen remodel with today's solid surface materials.
10. A New Kitchen Design Means Less Stress!
You may not realize the stress created by an awkward kitchen design or poor layout. However, note that a home's kitchen is often in use constantly and a poor layout, insufficient storage, and outdated surfaces can make cooking and food prep, and even preparing a few snacks, very difficult and stressful.
Having to walk around an oversized, awkward island to retrieve food from the refrigerator or reach the sink adds lots of footsteps to your everyday routine.
Carrying heavy grocery bags from an entryway door to cabinets or the refrigerator across the entire kitchen is physically taxing. For those who have balance issues, joint pain, and other such physical limitations, carrying groceries into an oversized or awkwardly designed kitchen can be downright painful.
Lack of food prep space can result in messy countertops, with all your foodstuffs, dishes and serving platters, pots and pans, and utensils stacked up on top of each other. If more than one person uses the kitchen at once, a lack of counter space or room to prep can also make the kitchen feel very crowded.
Small appliances stacked up on counters rather than stored neatly in a pantry or roomy cabinets create a cluttered look that often results in stress.
Insufficient plugs along the kitchen's walls mean having to carry small appliances from one spot to another or having to unplug one appliance to plug in another constantly.
An awkward kitchen design can mean having to repeatedly walk from one end of the kitchen to the other when cooking to retrieve foodstuffs, pots and pans, tools, and other items. In turn, meal prep can take far longer than it should while also being unnecessarily stressful.
A full-scale kitchen renovation that reworks your home's kitchen design means less work while cooking as well as lots of convenient storage, added outlets, and a floor plan that works for you and your family. In turn, you'll have less stress every day and actually enjoy using your home's new kitchen space! Trust this project to a professional. North Star Kitchen & Bath is ready to provide you with an estimate today.